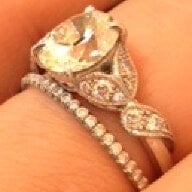 Joined

Feb 17, 2007
Messages

14,167
Date: 2/22/2009 10:12:16 AM
Author: steph72276
In my 10+ years of using a check card, I''ve only had 1 issue. I was at a hotel coffee shop and tipped the guy $2 for my coffee and it got entered in as $200. I check our account everyday, so as soon as I caught the error, I just made one phone call and it was put right back into our account (I believe it showed up the next day). They asked if I incurred any overdraft fees, which I didn''t, but they said they would remove those too if I had any. Also, here in Florida, when you pay at the pump, it asks you for your zip code. My hubby typed it in the wrong way one time, and we got a phone call from their fraud dept. to check and see if we had the card. So, I feel confidant about my bank taking care of things if something were to happen. Granted, it was only $200 and not thousands, but I feel pretty secure with my bank.
This situation is different than someone stealing your card though. I''ve had both happen (stole my card # somehow) and the mis-written tip was fixed right away. But it took almost 3 weeks to fix the debit issue from my bank account. I had to basically prove that I couldn''t have made the purchases which was a PITA.