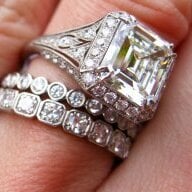 Joined

Jun 29, 2006
Messages

1,155
So my FI and I just moved to San Jose, CA from Atlanta, GA for his job. This whole area is totally new to me/us. I was born in Southern CA (Long Beach) but only lived there till I was 5. And my FI has never lived in CA. Some days it feels a little overwhelming to be in a new city and not know how to even get around (I''m so glad I bought a GPS/navigation system though). There are so many things to learn. That is why I''m doing this thread. I''ve noticed a lot of pricescoper''s on here that live in N. CA. There are a couple of things I wanted to ask.... Can you recommend a good hair salon? Nail salon?
And what about cool local bars to go to? or Wine bars? We''ve already found some good restaurants but any other recommendations would really help. We love to try new foods, wines, etc.
I''m sure I''ll think of many more questions!

Can''t wait to hear everyone''s responses