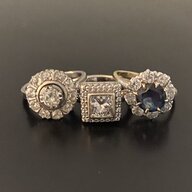 Joined

Aug 1, 2008
Messages

3,312
Re: Re:
blingbunny10|1463757504|4033992 said:

Evergreen - Glad you like Glow. I think they've emailed me once, to confirm registration, and that was it, so hopefully you're not getting spammed.

Ladyciel- Thanks for asking. I did tell my mom (who cried! She never cries!) and my MIL. I was nervous sharing early, but I'm now 10+1 and things are still going very well, knock on wood. I'm on Diclegis and it's been amazing. I can finally eat eggs, salads, meat, and drink plain water without getting sick!

My new problem is that the, erm, constipation has been so awful the past 2 weeks, but I'm trying to get through it naturally. They say it's even worse after delivery, so I'm kind of terrified of that now. My 12 week appt is coming up soon. Will be time to move to the non-"Barely" thread!
After I delivered, they brought Colace and Senna every couple hours. I had a major tear and my doc said they wanted things VERY soft. I had no issues whatsoever. They recommended continuing senna, colace and adding miralax after discharge. I did this for maybe a week or so and never had any issues. It wasn't nearly as scary as everyone said. Trying to pee on command a few hours after delivery and a catheter with a nurse that kept trying to talk to me was another story! It didn't hurt, but things are so swollen afterwards and the catheter made my bladder all wonky that it took real effort to get it moving. The nurse was a PITA about it and wouldn't leave me alone long enough to actually relax and get it done.