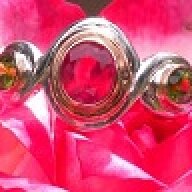 Joined

May 23, 2008
Messages

1,934
My local jewelry/diamond store is having a liquidation type of sale to get some money to pay bills so they can stay in business. I'd already been once and not seen anything that I 'had' to have. I figured I'd go during lunch today since the 'sale' will end tomorrow. Well today I did find something that I really liked.

I walked out with a .33 ct vs2 light champagne set into a 14k yg pendant with an 18" 14k yg box chain. Pics were taken with my iphone so they aren't the best, but the best I could do for now.
All of the pics were taken in my car and the background is white so something is off with the white balance. I really like how the stone blends with the gold.