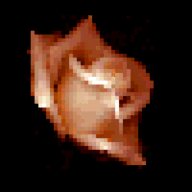 Joined

Oct 29, 2006
Messages

476
because I can''t stop smilin! And it''s just something silly, but I can''t help myself!

hehe.
My v-day present from my guy was a heart necklace that has little tiny diamonds in it, I think he said it was only like 1/10 total carat weight, but I''ve never had ANY diamonds before, and it''s just so sweet
I did try and take a picture but it just comes out all fuzzy for me and it just looks like a blob so I''m not gonna bother

The other thing thats making me smile so much is that last night me and my guy were in bed watching our Sunday night shows together, and I had my laptop because I was finishing up some things. Well a commercial came on for some journey jewelry and my guy said something about how oh, I guess THATS who sells though hey? I said well no, practically any jewelery store has at least one version of the journey jewelery, and so I pulled up the webpage for Kohls department store as an example, and said look, they''ve even got rings in that style, remember when I showed you this ring that I was talking to my sister about, yada yada yada..... then without even thinking about it until I had already said it (I try not to mention rings too much because he gets irritated about it, thinks I look at them too much, hehe), I pointed to another one of the rings on the page and said look, you can get a 5 stone ring that has a 1 carat total weight for waaaaaaaaay less than if you got a 1 carat solitaire. And instead of rolling his eyes or getting upset he goes oh yeah?, find that on eBay (He''s weird I know, but I did it anyways because he NEVER wants to look at jewelery at all with me, so even if it''s on ebay, I''ll take the chance! lol) So after a bit of searching and showing him other rings that came up, I said well I can''t find it on there, but eBay is pretty risky when buying quality jewelery anyways... so then he tells me, well..... pull up my uncles website (here''s me sitting on shock

) This is a MAJOR breakthrough for him/us. He NEVER wants to look at rings with me, it''s like pulling teeth for him to even TALK about anything like that. He talks about "THE wedding" and babies all the time, but rings? Oh no, he wont'' go there. So imagine my surprise when he asks me to pull up his uncles website for his jewelery store and when I hand the computer over to him, he looks at a couple of pictures and then goes into the catalog and starts doing a search for rings!!!!!!!!! AHH!!!!!!!
So I know, it''s totally silly, but it just made me sooooo excited and happy, I totally couldn''t even believe it.

Ok, thats the end of my silly little post to share my happiness!
I hope everyone else had a really great weekend too!