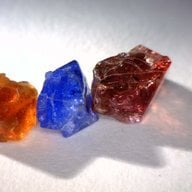 Joined

May 26, 2009
Messages

2,218

This guy is an a**hole! I have never been treated before from anyone online like I have from this guy. He pretty much called me stupid and made fun of me because he is older than me, he has a G.G("
for one year when I was born as he ") ,owning a jewelry store(now defunct) and this appraisal service. He just attacked me for no reason and belittled me like no one has before on any online venue. This attack was in response to just a single post of the FTC guidelines regarding "Gemstone Treatments"...just a copy and paste and nothing else....thats it...sigh. Then without any response by me he goes to another thread and says roughly the same thing on a thought out post I had written. I have been in stupid online arguments and name callings but never have I been called stupid due to posting thoughts and information all just to be helpful. Please never send any stones to his..."gemological appraisals services"....as his attitude towards me will more than likely be the same for you. "I am older and a G.G. so I am better than you and you know nothing"

Never met a bigger a**hole than him. I wanted Pricescope, as the leading Consumer protection website, and all you Pser's to know and hopefully you will never choose his services or seek his help. Sorry for the rant ...