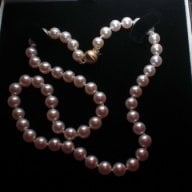 Joined

Apr 28, 2008
Messages

5,596
Hi Friends! I'm in a little desperate need of job dust. I just got a dream job about 3.5 months ago, but I already feel like I've messed up and am doing badly! Its a tough job and field, with little room for error.

For a little context--this area of work is new to me, and I thought that was communicated when I joined--I thought it was especially clear since I was also bumped down in salary to account for this. However, there is really no one around (most of my team is in other offices or work from home, and they all seem to work pretty autonomously of each other) to train me or show me the ropes--the next person above me is 9 years ahead of me in experience. I know, I know, wah wah, poor me. I don't want to be a whiner, need to be handheld, etc. but there's genuinely not really a guide besides experience. The team also had one internal person around my experience level join the team, so I think that they meant to hire only one but wound up with two juniors, meaning there is more training to do and less work for each., a result of those environmental factors, and of course as a result of some of my own personal shortcomings--making errors by rushing or not proofing well, I'm scared I've already put myself in a place to fail. I talked to my boss about it today, basically explaining that I'm worried I haven't performed well but that I also haven't had a lot of training, and that I'm really motivated to do the job right, and he said he'd talk to some people to see what they thought of me/my work, and get back to me with feedback. It was a fine response, but not particularly warm or encouraging. Have I drawn more attention to myself by saying anything? My hope was to be transparent and to show initiative (because I genuinely do care). But, I'm worried I've now given people a reason to really scrutinize me.

There are some steps I can take: proof read 3x over anything that I do, study on the topic even if it doesn't show me how to do it at work (think reading about drawing blood vs. the actual experience of having a patient's arm in front of you), have a good attitude, keep asking for work, etc. Does anyone have any advice or dust for me? I am totally terrified. This is my dream job. I'm terrified of losing this within months, explaining to potential employers if I'm fired, unemployment (sounds like a joke but I really can't afford it), etc. etc. I realize this is a privileged problem, and that there are many worse things.

Does anyone have advice for me? Maybe a little dust pretty please?