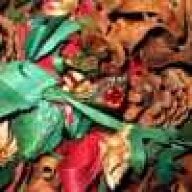 Joined

Jan 11, 2006
Messages

2,876
My fingernails can't take it anymore! I applied for a job a month ago, with an employer that is notoriously, glacially slow in the hiring process. It's an excellent career move for me, and it's in the general location where I grew up and want to live (i.e., across the country from where I live now). I am fairly sure that with my qualifications that I can make it to at least the first round of interviews, but I have no idea when that will occur, and there's really no way to find out. I'm finally breaking down and asking for PS dust, because I'm going just a bit stir crazy with the anxiety. I also feel like I need to be prepared for disappointment, because I'm sure there were hundreds of applicants.
I'm also nervous because this would be a huge move for my husband. He spent his childhood moving around, and as a result is extremely difficult to uproot once he gets comfortable somewhere. He's known, practically since the day we met, that I fully intended to move back someday, and that he would be getting dragged along.
He does like the area as well, and will have no trouble finding a job, but I do feel a little guilty and selfish sometimes. Of course I told him I was applying, and we've talked a little about the subject, but I have decided not to say too much to him about it until I find out whether my application is moving to the next step. Bottling up my excitement and tension has become a little tough as a result!