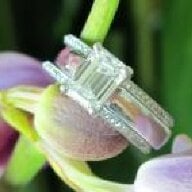 Joined

Jan 7, 2010
Messages

1,500
I've just purchased a 6.7mm OEC in the K/L/M colour range and am thinking that I will eventually set it into a RHR.
I don't have a particular design in mind at the moment but the style I'm thinking of is that very stepped, geometric style distinctive of the Art Deco period - there were lots of rings made around that time with "stepped", milgrained settings made up of calibre-cut coloured stones, onyx or diamonds. I know that Single Stone is fantastic for this kind of thing, but is there anyone else I should consider?
I have not seen JBEG make anything of this sort (although I'm sure they are more than capable).
Victor Canera
did cross my mind as he is obviously able to source Frenchies with no trouble at all (am considering French cuts for the steps) but I do not know if he does international orders and am unsure of pricepoint.
Any other suggestions would be gratefully received!