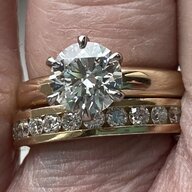 Joined

Feb 27, 2007
Messages

23,546
Hi Everyone!

We got up about 6 am and sadly the ground was dry so I agreed to go with Marty to the airport and drive home. Its about 100 miles away. The roads were bad off and on on the way down because it wasn't icy yet but by the time I was driving home there was a lot of black ice. I saw lots of cars in the ditch, etc. There isn't a lot of snow but enough to get the roads slick and since we are really cold it froze up quickly. Out of the 100 miles coming home only 40 of them were okay. Aak.
Marty safely arrived in Arizona though.
It was -3 when I came home with wind chill of -26. I put my sweats in the dryer for about 5 minutes when I got home then put them on - toasty warm. That was sweet. My PJ's will be getting the same treatment before I go to bed.
Tomorrow's high is going to be -4 with wind chills -30 to -40. Aak. This is December, January weather.
Eats were good today. I had a 100 calorie english muffin for breakfast and ate my cheerios as my snack on the drive home from the airport. Lunch was leftovers (roast and mashed potatoes), my mid afternoon snack was some lite popcorn and supper was veggies and a lean cuisine. I had a weight watchers chocolate ice cream bar for dessert.
Deegee, I agree the Bat Phone should not go off on the weekend. I know what you mean about seeing people in shirts already. I see people running around without coats too. Not me, I like to be warm. I did okay at cribbage but didn't win. I told them I couldn't live up to the hype that "I always win." Buying boots sounds like a nice reward for the new you! And you found them on clearance so how could you pass them up? The soup at Cracker Barrel sounds great. Chicken soup is my favorite.
Well, I am off to hunt down a fleece blanket. Maybe I should throw it in the dryer too.
Marcy