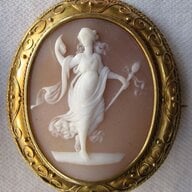 Joined

Apr 17, 2002
Messages

3,997
I can''t get over how beautiful Coati''s & Rainydaze''s James Meyer bezel settings. I''m seriously considering resetting my grandmother''s OEC in that setting. I''d been considering a bezel setting anyway for safety, and that one is just gorgeous.

Coati & Rainy (and anyone else with a similar James Meyer setting), how comfortable is it to wear? It looks like the stone is set on the higher side. What do you think of the height? Does it spin? Do you bang it on things?

Rainy, does the bezel make the OEC look dark, or does height of the setting allow enough light to enter the stone from the side?

How comfortable are the "wrap" decorative elements on the sides? Are they scratchy--do they irritate your fingers? Do they maybe help prevent the ring from spinning, or are they just decoration?

Thanks so much for your help!