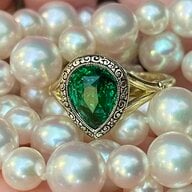 Joined

Mar 2, 2009
Messages

12,795
I''m a big fan of jade (jadeite to be specific). I''ve been to gem markets in Thailand, pearl markets in China, but my favorite of all is the jade market! I love looking at all the bangles and rings and pendants, they glow with this inner radiance, and the artistry in the carvings can just take your breath away. And the sound of jade clinking together is just lovely, if it wasn''t so expensive, I''d make a jadeite wind chime, lol. I was sad that "Secrets of the Gem Trade" didn''t have a jade chapter :/ But I understand, jadeite can be tricky to evaluate, and it''s not as popular in the Americas as it is in Asia.
Anyways, I have a hard time finding jadeite in the US, but I saw this ring online (in just my size!) and thought it might be a good match for my bangle, and it wasn''t very expensive, so I got it and I''ll keep my fingers crossed until it gets here
If they match then I''ll have a nice little set! My favorite color of jadeite is "moss on snow", basically a darker green patch on nearly white, translucent jade, like my bangle. Right now "glassy" jadeite is all the rage in China, but I prefer my jade a bit more translucent than glass.
So here''s the ring and the pics of the bangle. Hopefully it''ll be a good match