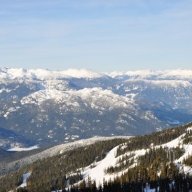 Joined

Jun 19, 2008
Messages

2,107
FI and I aren't so much into EVERYthing that has to do with the typical traditions leading up to a wedding. We like most of it, but not all. I've searched on PS about this and found a thread where some of you listed the different parties you had leading up to yours. That helps a little, but I'm interested in your opinions on how to go about this, or if it will throw a kink in things more than anything.
I think my parents are planning to throw an engagement party soon for us - nothing fancy, just a bbq or something. I guess they'd invite everyone they think would be at the wedding. (?)
My cousin is getting married this fall, and my mom as the aunt is hosting our side of the family's wedding shower for her this summer. Then us bridesmaids will host one closer to the wedding, I guess her lingerie shower or something. My mom was talking about how my cousin's family on the other side should also have a shower for her, and her friends at school/work probably will to. Then she said "just like how your aunt will give you a shower for our family, and J's mom will probably have one for their side."
I didn't say anything then, but J's relationship with his family is ok, but not really close. Not close enough by a mile in my book to host a shower for me. Plus the idea of me sitting in a chair with a bunch of girls/women cooing around me about the towels, toaster, etc is just not my idea of comfortable/fun at all. So I like the idea of a Jack and Jill shower - invite everyone we know, just have one shower, and FI and I are both there to open gifts and stuff, and women and men are invited (not just couples, but everyone). I don't think my mom would be crazy about this idea, but she'd be ok with it if it's what we wanted.
I guess I'd just like to know if this is a common thing. Who hosts it? Would it be a huge burden on my family to do it for more than just our side of the family? My mom is pretty into the etiquette of who's supposed to host what, so I'm unsure of how to approach this. I don't want to offend, because she's pretty excited about me getting married. But I just like the idea more of FI and I sharing things that are bought off a register and given to us, if there's going to be a shower... instead of it all being just on me with only women around for multiple showers. Thanks guys