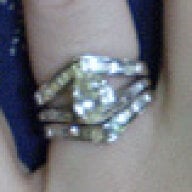 Joined

Feb 17, 2008
Messages

1,166
Hi everyone!!
I am so excited. I won a LOGR setting on e-bay last night. I have been wanting a RHR for a long time - I really don''t wear much jewelry besides my ERing and studs. B & M stores had pretty stuff, but they all seemed way overpriced (or just over-budget). And then I feel in love with all your LOGR settings, so I bid and won!
Now I just need a stone! I''ve been trolling the web searching, I figured you all could help, if you want! (thanks geckodani for that list!)
Stone must be 8 x 6, oval shaped, or thereabouts (anyone know how much play the LOGR settings have? I will post a pic)
I''d prefer something blue, hopefully I''ll have enough time to get it set to wear as my something blue for the wedding (4/1
.
I could also go for something blue/green. Or green. I could always wear blue underwear or garter.
Spinel? Aqua? Topaz? Sapphire? Tsav? So many choices! Cut is very important, also.
I''d like to keep the stone at or below $125.
Anyone know about how much a jeweler would charge to set the stone? Ballpark? It''s Sunday and I can''t call!
Sorry for the bombardment of questions, but I really thank you in advance. I''ll be back to the forum later tonight (bridal shower''s today - I''m not supposed to know! lol).