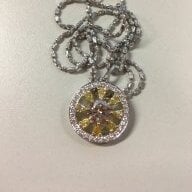 Joined

Feb 8, 2011
Messages

302
I just posted a topic on my dilemma in setting my sapphire into a ring.

Besides that, I have 2 other simple projects in the pipeline: a pair of dangle earrings and a 3-pear pendant.
First, the earrings.
As much as I love Upgradable's dangle earrings, my stones are just too small for all the details to be incorporated. I don't really have the exact dimensions. All I know is the Mumbai garnet from Bob Kast is 1ctw (~5mm), the yellow zircon is a gift from Dana (thank you, again!) is 0.69ctw (~4mm) while the diamonds are about 5 points each (~2.5mm).
I'm thinking of just bezeling the stones whereby only the girdles of the zircons and garnets are covered, so the culets are exposed to allow more light onto them. But would this cause durability issues? As earrings I don't expect them to get knocked and I won't be wearing these everyday. I'm leaning towards using YG for this project.
Next, my 3-pear pendant.
I am not too sure if the proportions for this will work. The bottom pear is a blue spinel I bought from Tan when I first embark in this CS adventure while the green pear is a tsavorite from Gem Trader. The top pear is a diamond I purchased from a diamond dealer and it was picked from a lot of odd colors and shape ungraded diamonds he had. I spent an hour picking a few pieces and this was one of the larger pieces that appeared clean and sparkly. I wish I had chosen a bigger piece but I didn't want to sacrifice beauty for size.
Do you think the top pear (diamond) is too small and makes the pendant look rather wonky?
All feedback will be greatly appreciated! Thank you