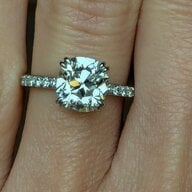 Joined

Jan 21, 2006
Messages

10,589
Well, last night we got engaged and I couldn''t be more giddy!!! I have a big exam this weekend and all I do is daydream about my new Fiance (almost said boyfriend).

He went home this weekend to see his family, have a going away party, and for father''s day. He wanted to do it before so that we could go home and surprise our families and friends with an engagement when all of our friends and family are together. They aren''t expecting me at home, so it will be quite the surprise!

Around 8pm or so we headed out for our date night last night. First we went for a walk near the ocean, and then on the pier. He got a little quiet and kept looking up at the ferris wheel. He said a couple of times, "huh the ferris wheel isn''t working." I didn''t think about it at first, but then I knew he was going to do it. He was planning on proposing at the top of the ferris wheel facing the ocean, but it wasn''t running! Instead, he pulled me off to the side where it was quiet and private. He said the sweetest things, unplanned and from the heart, I cried, and then he got on one knee and asked me if I would marry him. I said yes and then I kept crying for a little while while we hugged. Then we took goofy pictures on the pier.

I think it''s actually kind of cute that the ferris wheel wasn''t working, something we will remember. He said he even looked it up on the website to make sure it was still open at that time...and then it wasn''t working, poor guy!

Afterwards we went to this nice steakhouse and had an amazing meal together. I''m sorry if I am affending any vegitarians, but we both loooove a good steak. This restaurant has a 36 dry aged NY strip that was to die for!!! We both stuffed ourselves and were so content and silly happy. We just kept looking at each other the rest of the night.

I couldn''t be happier!!! I''m trying my best to buckle down and do my exams, but man it''s tough. I''m also very excited to go home and surprise all of my friends and family at the party. They aren''t expecting me to come home, so it really will be a surprise for them!!! I also can''t stop thinking about how much I love my man.