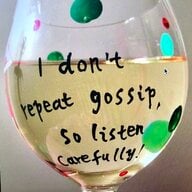 Joined

May 22, 2002
Messages

1,915
Hi All,
I''m officially an engaged woman & my lovely ring has been crazy glued to my finger since Friday night. haha
My fiance & I went to Niagra Falls for a weekend gettaway & stayed at the Radisson Falls View way over at the Horshoe Falls. It was a beautiful hotel & we had the jacuzzi suite for the weekend.

We had an incredible view as we were on the top floor- 15th. The jacuzzi was right by the window so you could sit there & look out. It was really nice. We were getting ready to head out for the evening when my fiance sits me down on the bed, gets on one knee, pulls out his speech & proposes to me. Even though I knew about it, let me tell you, it by no way diminished the impact of hearing those loving words, the cracking in his voice, & the tears he had in his eyes. It was very special & so perfect I couldnt have asked him to do it any better. It was a very emotional moment & I cried just as hard knowing about the ring as I would have if I had been surprised. He said we werent going out that night without that rock on my hand. haha What a showoff he is & so PROUD. This is cute, when we went out to dinner, he made me sit on the outside so the rest of the restaurant could see the ring. LMAO. I just laughed at him cause he was like a kid with a new toy only it was on my hand. Then we go to the casino & I go to one end of the room & he goes to the other end of the room. Boom, we both win 1,000 coins ($250) at the same time. OMG! It was funny. The lady beside me was excited when I said "I got engaged tonight too". After she saw my ring she didnt care about the 1000 coins. LOL Its a beauty & boy what high wattage sparkles its got. I will post pics of the ring tonight, I accidently left my digital camera at my parents place last night & I''m heading over there this afternoon.
For those of you guys that think that it would impact the proposal if you involve your girlfriend, it doesnt. It was just as special in my case & I was the one to pick my stone & setting.
Judy