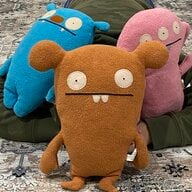 Joined

Oct 24, 2012
Messages

12,462
Ok. So for Christmas Eve, I finally got a replacement for the custom notched wedding band that
Victor Canera
made for me. My ring finger has been feeling very...incomplete. Now that I have my new band, it's all ok again.
I'm have to say I am very surprised at how difficult it has been to find the perfect band. I've been trying to put together my wedding set for almost four years now and could not find the right combo that felt just "right" if you know what I mean. I finally discovered that for me, the rings MUST be the same width and height. And I never realized how difficult that is to achieve.
Anyhoo, I think I finally got it right. Platinum band. 2mm wide. 1.3mm high. Size 5. Thank you Yssie for the suggestion of e-weddingbands.com. So many different options and such reasonable prices.
Nothing fancy. Just finally a basic, symmetrical, simple set.