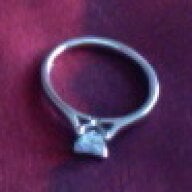 Joined

Mar 4, 2010
Messages

2,357
Following everyone's advice about not getting jewellery on credit, I decided to hold off and save before I make any big purchases.
However, I've just arrived at my family home for a few days of vacation and while going through my old things I discovered a bunch of jewellery pieces I was given as a child for birthdays, etc. - a few crosses, some rings, hoop and stud earrings, etc. Fortunately, they're all 18k gold! Back then, gold trinkets were cheap so a bunch of people would just gift me things like that for major occasions.
I realise that I'm never ever going to wear those things again because I don't like yellow gold, some of the rings don't fit my fingers any more, I don't wear hoop earrings, etc. (plus a lot of them are engraved with my name so I don't think my future children could wear them either), so I've decided to sell them for cash. I don't know how much they would get but I hope enough to cover about half of the value of the sapphire pendant I dream of getting so that I only have to save up for the other half (hopefully in time for my wedding in three months' time).
Now, I'm itching to check how much I could get for everything but that won't be for another week when I go back to the UK.
P.S. I also discovered my mum has a lovely ruby set in an 18k yellow gold ring with a CZ halo that will be mine one day