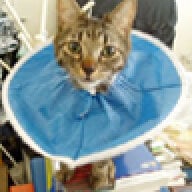 Joined

Feb 15, 2007
Messages

13,166
I've had the same Master Lock since the 6th grade. I bought it for gym class, and for some reason completely unknown to me, I've managed to hold onto it all these years--20 years, in fact. The lock went all through junior high, high school, and college. I've kept it in my purse every day since college to lock my locker at the gym. I looked down at it the other day and realized that I have been entering the same code into the same lock since I was ten years old.

I'm not the type to lose stuff very often, but with all the moves and changes, I'm actually shocked that I still have this Master Lock. And frankly, I don't know if I could ever learn a new lock code at this point! I think after 20 years it must be ingrained in my brain or something.

What interesting items have you managed to keep for a long time that you use in your daily or near-daily life?