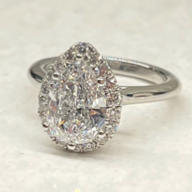 Joined

Nov 28, 2005
Messages

243
I am itching for a furball...! I have been doing my research on cats lately and sifting through shelter/adoption websites and now I am dying to get a little meow meow.
DH was never a pet person and his family never owned any pets, goldfish included. I on the other hand had fish, crayfish and a dog, but no cats. I never thought I would want a cat but i have been doing research and they have so much character and i think they will be most fitting for our lifestyle but I have a few obstacles working against me

:
1. DH is verrrrrrry against me getting any pets (ok maybe a goldfish,
maybe
).
2. Our co-op does not allow pets. (Though I spoke to the doorman yesterday and he told me a few co-ops in the apt have cats but people turn a blind eye as long as they don''t cause a commotion. We also plan to move next year to a condo.)
3. I have never owned a cat and don''t even know where to start or whether I am fitting for one!
I wanted get an idea on whether you guys think my lifestyle allows for a cat. I am not looking for a kitten as I know they do better in pairs and need more attention which I worry I will not be able to offer with my schedule. I was hoping to adopt a 2-3 year old male (since it seems that they tend to be more affectionate).
Here is a little info about us...
~ we have no pets currently
~ we have no children but plan to start TTC Spring 2010
~ I work a regular 9-5 type job, out by 7AM back by 7PM
~ DH work nights, out by 6PM back by 8AM
~ we live in a one bedroom corner unit approx. 900 sq ft (which currently does not allow for pets, but I am working on that

)
~ the maintenace guys have access to our apt and comes in sometimes to change the filter/exterminate/check the smoke detector (will the scare the cat?)
~ we don''t travel often, usually (1) week long vacation and (2) or (3) long weekend vacations per year (when we travel, can we take the cat with us assuming the hotel allows? is this a pain or is it better to get a petsitter?)
~ DH seems to think he is allergic to cats, but I think this may be an excuse. If he
really
is, does that automatically mean - NO CATS?
So... what do you think? cat or no cat?