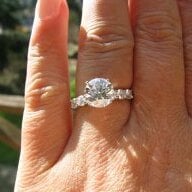 Joined

Oct 19, 2006
Messages

1,394
Wow, what a weekend! I feel like my bf and I got a lot accomplished

First off, we decided on a center stone for the setting we purchased last weekend, so the ring is actually off being set right now! In addition, although he has not officially proposed yet, we came to agreement on wedding details, dates and honeymoon location! Now I can actually start planning!!!
I have been agaonizing over the wole wedding thing. We have both been married before and neither of us wanted a big wedding. We both agreed that what we really wanted was to just run off together, just the two of us. Well, my kids had a fit when I mentioned it, so we started talking about having a small ceremony. Of course we all know how that goes - you start off with a few names and the list grows and grows. Anyway, I talked to my kids again and told them that we really want it to be just the two of us and that we will have a party to celebrate when we come back from out honeymoon, and that''s just the way it will be. They will be okay with that.
We talked about where we would be married and where we would go for our honeymoon. We decided on Kauai in March and getting married on a beach while there- so romantic!
Let the planning begin