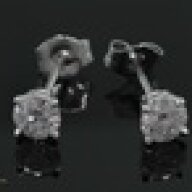 Joined

Dec 26, 2006
Messages

61
Hi all,
I am very curious about this and would love to have you experts to confirm.
I was searching for a couple of diamonds for a pair of earrings and during the search i talked to a couple of retailers here in australia. One of them get back to me today and told me something i find a bit unusual.
I specifically asked for only H&A and must have GIA/AGS cert. They came back to me saying that they only located two, H&A, 0.5 and 0.51 ct RB with GIA cert. Thing is, on the cert itself it doesnt say H&A, because, told by SA, it cost the wholesaler money to have GIA to put the words ''Hearts and Arrows'' on the cert, so even (she claimed) they are H&A, because the wholesaler didnt pay GIA extra, they didnt put H&A on the cert itself.
She also claimed that the cert is a small cert, with no images, because imaged GIA cert only apply to diamonds 1ct or above.
Is that true?
As an FYI, the lady quoted the rocks in a 18k white gold setting for $5920 USD (and no, dont worry, i wont buy them, because I have decided on a pair of
WF
beauties heh)