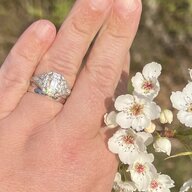 Joined

Feb 16, 2021
Messages

86
Hi Friends!
I'm stuck again and seeking some opinions from you all. Recently I bought two matching OEC/transitional cut diamonds .82 and .83 cts., and was going to use them as earrings; however, I don't really wear earrings, in my opinion the carat size is too large for my ears, and I just wouldn't appreciate their sparkle. So I was considering doing a 3 stone. My 20th anniversary is two years away. I can wait to possibly put in a matching K colored diamond (can't do it now). Or I can take my Betty (a 2.24 O-P VVS2 transitional cut) stone out of her antique setting and just make a 3 stone now.
I took the stones to my jeweler to have them measured for a 3 stone band. It would be in platinum, simple setting, as I don't want gold. I am still deciding whether to do it or not. He told me it wouldn't look horrible, with the color difference, but I need some more opinions before I take the leap. Is a center O-P too different from two K's? Would you make it into a 3 stone or keep it the way it is?
I am very happy with her as she is now, but it also kills me that the other sparkly diamonds are sitting in my jewelry box!
I have attached pictures of the possible look and the setting now.