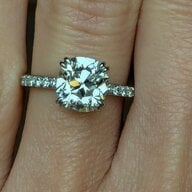 Joined

Jan 21, 2006
Messages

10,591
Hey folks, I decided to go with a malaya instead of a spessartite. Hopefully that doesn''t dissappoint a few of you die hard spessartite lovers. I really like the color on the malayas a little better. What do you think of this one, is she a keeper?
It''s 6.7 x 8.2 mm, 2.41 carats, eye clean, and he described it as "slightly orangy cherry red color with good brilliance and is not overly dark" which is pretty much exactly what I wanted. The price is reasonable for personally cut stone rather than a factory cut, so the price isn''t an issue for me. The cut shape is a modified rectangular cushion, and I think there is a story with the interesting table he gave it. Maybe there was a flaw he avoided or something. I''m going to ask him about that and let you know what he says. Actually though, I kind of like the unique table, it gives it a bit of personality.
Thanks for your opinions.