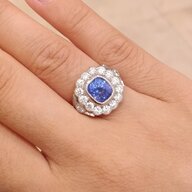 Joined

Mar 8, 2020
Messages

203
I know everyone loves a "what is this stone" thread without seeing it in person or having a lab check it
but here is mine.
I bought this 18ct gold pendant with no hallmarks and a 5mm red/pink stone on eBay. The gold was tested. The stone looks really vivid in some lights and meh in others. It has at least one black inclusion and a small window so not cut very well. It fluoresces vividly under UV light. I took some photos under 40x loupe.
The seller told me it was rubellite. I think they used a Presidium tester on it, which presumably can differentiate between corundum and not.
I don't know if a Presidium tester can differentiate between spinel and tourmaline. I thought rubellite tourmaline doesn't fluoresce under UV so I think it's a spinel. Any other opinions?