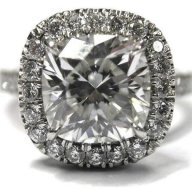 Joined

Mar 25, 2009
Messages

170
I am trying to figure out if there is a "sweet spot" size. For example, as a diamond gets heavier in size, the price/carat is obviously higher. But is this a linear relationship or is there a curve of some sort?

Assuming all other variables held equal, let''s say a 1ct diamond costs $5k/ct. Then a 1.5ct costs $7,500 per carat. And then a 2ct costs $10,000 per carat. Is there a range in size where you can go larger but the $/ct doesn''t rise?

I hope I explained this clearly enough...