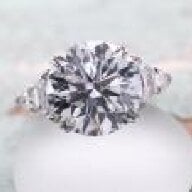 Joined

Sep 18, 2015
Messages

165
Hi all,
I received my
Ideal Scope
in the mail today. Wow is it a fun toy! I looked at the tutorials and I *think* I'm doing it right but I'm not sure. I want to know if the images I'm getting are reliable. Note that I took these in my bathroom in indirect daylight but without any additional light source. I took them by placing the IS on top of my iPhone (a bit unconventional!).
The modern stone is a 3c H SI1 that scores a 1 on the HCA.
The antique stone is a 4c OEC.
Mainly I'm just surprised I'm seeing so much red, especially with the antique stone. Even areas I thought would show white are still red. Maybe my technique is faulty? Like the stone is too close to the edge of the scope or something?
So I'd appreciate any thoughts on 1) do I appear to be doing this correctly, and 2) if so, what do you think of the stones based on these images?
Thank you in advance!