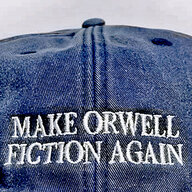 Joined

Apr 30, 2005
Messages

32,500
This is
not
a political thread to bash one side.
It's about the voting process
itself
.
I think most agree that in a democracy voting is good, and not voting is bad.
However we do have the
right
and freedom to not vote.
Some feel that
not
voting for either '
jerk
' is the statement they want to make.
That civil right (to do something largely seen as bad) is being threatened.
A decade ago political scientists tested a new Get Out the Vote technique.
They sent out a mailing (with full names and addresses) telling recipients that their neighbors will be told whether or not they voted in an upcoming election.
It worked.
Voting increased.
Last weekend a major candidate did it, but with additional twists.
They gave it the look of a report card ...
"They had people's names and they gave them an F rating for how they voted. I think a lot of voters are disturbed by it." ... "The mailing also states that a 'follow up notice' will be sent following the caucuses on Monday. ... "
Also, it was designed to appear to be a
VOTER FRAUD
notice, presumably so people would not throw it away as junk mail.
Source:
https://www.washingtonpost.com/news/post-politics/wp/2016/01/30/cruz-mailer-inspired-by-political-scientists-is-condemned-by-iowa-secretary-of-state/?hpid=hp_hp-top-table-main_pp-cruz-mailer-100pm%3Ahomepage%2Fstory
So, is it okay to publicly shame people into voting?
Please vote!