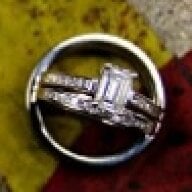 Joined

Jul 30, 2008
Messages

1,493
is my FI starting to become interested in someone else!?

Let me preface the story by saying we started dated 3 years ago, as he was ending it with his previous girlfriend. I was "the only woman", but told his now ex about me and ended it with her right away. We met at a restaurant, started talking, and things just went from there.
Fast forward to now...My FI and I live together, have been engaged for about 3 months, and get along great. He is a chef at a very small local restaurant, and works with two others in the kitchen, and about five servers. Everyone knows me at this place, and I''m there almost every weekend having a glass of wine. There is one girl who is interested in the same things FI and I do, (hike, ski, etc), but she has no one to do these activities with. SO, FI asks her to come along, which he asks me before hand if it is OK with me. I say I have no problem with it, which I don''t (I''ve been the third wheel many of times). Now she''s starting to text him with computer issues, (FI is a whiz on the computer). He''s very honest with me, and not trying to cover up he''s talking her through her computer troubles. They are both friendly towards each other, we let her borrow a book, she brings FI a beer he''s never had before (he''s also a beer nut!).
Is this just me being overly..ugh, jealous, or could it possibly be more? Maybe I fear that karma will come back as he''ll leave me for another waitress! (i''m now in social work, so no more waiting tables for me). Or, is it just FI being friendly with his co-workers, and I feel out of the loop because I don''t know her as well??
Any thoughts/opinions would be great!