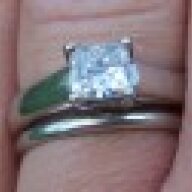 Joined

Feb 8, 2009
Messages

3
So I am quite upset. I have pretty much determined my platinum ER''s prongs have been soldered with gold. I took it in over two years ago to have the jeweler see if he could raise the diamond in my mounting. It had initially been mounted pretty low and I thought if the prongs were raised it might catch the light better. I wasn''t sure if it could be done but they said no problem. They never said anything about having to use gold to make the prongs taller. A few months later, I noticed pitting on the prongs, and then one of them completely shore off when my hand got caught taking it out of my pocket. Yeah, I don''t think they used platinum! Anyway, I took it back just thinking that maybe it was a fluke and asked them to fix it. (At this point it hadn''t occurred to me they may have been using gold instead of platinum.) They did, free of charge and I didn''t think much more about it.
Well, we went swimming at a pool yesterday and I noticed very visible pitting on my prongs today!

I am really mad, because it never occurred to me that I needed to ask the jeweler if they were using platinum to work on a platinum ring.
Anyway, my question is: is this common practice? Especially without disclosing it to the consumer? I''m feeling somewhat guilty though - maybe I shouldn''t have modified my ring!
Please say something to make me feel better!


Rebecca