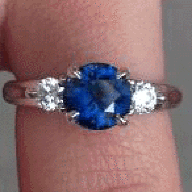 Joined

May 28, 2010
Messages

826
I share more about my LIW-itis here than in real life. To the point were some of our mutual friends seem to think I'm not interested in getting married (not my SO of course!). This is because I'm simply not interested in the big, white fancy wedding. I just could not possibly be the center of attention in such a big group of people for that period of time.

I once told my SO that all I wanted when we got married was jewelery, paperwork, and a "We're Married" session of engagement photo-like shots that would be taken sometime soon after we got paperwork and jewelry. I care more about being married, why is that so crazy?

It hit me though when I had a conversation this weekend that involved me saying "He'd better not make me wait four more years!". It was the first time that that group of friends heard me say anything like this, and some of them were just plain flabbergasted. It sort of hurts me... I feel like they don't think of me as normal because I'm not a ~*~*Girly Girl!!*~*~

Is anyone else like me? I'm so much more share-y here because it's hard to be shy over the internet , I can get unbiased opinions without going beat red, and no one thinks I'm crazy because we're all in the same boat and mostly anonymous.