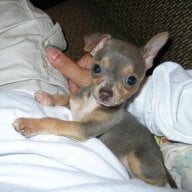 Joined

Dec 16, 2007
Messages

5,184
I just want to scream for a moment...
Yesterday we had a nasty ice storm that made our town an ice rink. Very dangerous.
Today I am home watching my friends son because she had surgery yesterday...i am getting him into my car outside of my house to take him to school, and as I''m pulling away I see a dog...covered in blood. Her mouth was leaking blood, it was all over her paws, coat...everything! Blood soaked.
I could tell she was a pitbull and I had a moment of pause...a pitbull covered in blood, never a good idea. But as a dog-mommy myself I just couldn''t reason turning away.
I jumped out of my car, and slowly approached her...she immediately cowered and submitted. I felt reasonably safe taking her collar in my hand and walking her to my house. She went willingly, almost happily...wagging her tail. I rushed her into the garage...and went back for the boy.
I plopped him in front of the TV and went to tend to the dog. I brought a bowl of water and a warm blanket. She was exceptionally sweet but nervous. She kept trying to "jump" on me...I''m sure it was a thank you-for-saving-me jump, but I was still apprehensive.
I managed to get a phone number off her tag...and immediately called it...only to find it was DISCONNECTED!!!
I had my husband go knock on the owners door--a couple courts away...no one was home!!! My husband made the rounds at the neighbors...conveniently no one knew anything.
As my husband was walking back, a gold impala pulled into the court...my husband stopped the driver and asked him if her knew anything about the dogs owner...lo and behold, the guy driving was the owner!!
He followed my husband home, got the dog...no thank you, no rush to vet, nothing. Just threw the dog in car and left! I am now worried sick...not my dog, not my business--I know...but still, the dog is obviously injured and needed medical attention. I believe she probably slipped on the ice, once or twice or a bunch of time and knocked her mouth--whether she lost teeth, bit her tongue--who knows...but just taking the dog "home" doesn''t seem reasonable.
Not to mention the fact that her tags were outdated!
I am considering going over there again this evening to "check on her"...there was a lot of blood, mixed with saliva I''m sure it looked "more"...but it was more blood than I''d let "go" without a trip to the ER vet. If he hasn''t taken her in, I''m considering offering to pay for her visit...and if all else fails call Animal Control. Does this sound like a good plan??
Ugh, makes me sick.