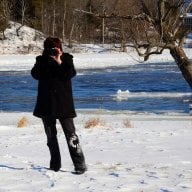 Joined

Sep 3, 2013
Messages

2,385
Blame my Irish blood, but I love this.

http://www.msn.com/en-ca/lifestyle/...uary-goes-viral/ar-AAlKh41?li=AAggNb9#image=1
An Irishman's obituary has gone viral after his family paid the most hilarious and heart-warming tribute to him.
Irish-American Chris Connors (67) lost his battle to ALS and pancreatic cancer, but his family made sure his obituary reflected his life to the full.
The obituary reads:
"Chris Connors died, at age 67, after trying to box his bikini-clad hospice nurse just moments earlier.
"Ladies man, game slayer, and outlaw Connors told his last inappropriate joke on Friday, December 9, 2016, that which cannot be printed here."
The obituary, which has gone viral, said Conners died just like he lived, by writing his own rules.
"Anyone else fighting ALS and stage 4 pancreatic cancer would have gone quietly into the night, but Connors was stark naked drinking Veuve in a house full of friends and family as Al Green played from the speakers," the obit said.
"Chris enjoyed cross dressing, a well-made fire, and mashed potatoes with lots of butter. His regrets were few, but include eating a rotisserie hot dog from an unmemorable convenience store in the summer of 1986."
The obituary recalls some of Chris' most hilarious moments.
"Most people thought he was crazy for swimming in the ocean in January; for being a skinny Irish Golden Gloves boxer from Quincy, Massachusetts; for dressing up as a priest and then proceeding to get into a fight at a Jewish deli.
"Absolut vodka and Simply Orange companies are devastated by the loss of Connors.
"As much as people knew hanging out with him would end in a night in jail or a killer screwdriver hangover, he was the type of man that people would drive 16 hours at the drop of a dime to come see."
The heartwarming obituary has gone viral across the world.