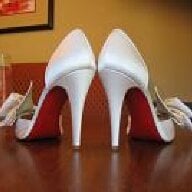 Joined

Nov 13, 2007
Messages

5,720
Is anyone else going to try to follow this? It seems like a great opportunity to have almost everything laid out for you. If I can't do it this way, then missing my goal will be completely of my own doing. No more blaming.
They are also going to have a forum for men and women do the program, so I will split my time between here and that group most likely. My mom is also going to try it, so it will be nice to share recipes and stories with her!
ETA: Here is the link if anyone is interested-
http://www.doctoroz.com/videos/move-it-and-lose-it-2011
I know that I am not around here very often, and would love to learn from you ladies, if you'll have me

I got pregnant on my wedding night in Fall of 09 and my son is now almost 9 months old.
I was 132 when I got married, put on about 5lbs while on our honeymoon, and then the baby weight on top of that. I was at almost 175 (if I remember correctly) when I gave birth. The weight went everywhere... face, chest, arms, thighs, and waist. After losing 20 lbs in the first 2 weeks after having my baby, I have been stuck at 152 since. No matter what I eat or subsequently don't eat, it just doesn't fall off like it used to.
So, my new years resolution is to be back to my *normal* weight before C turns one in April.
I look forward to spending the next few months in a whole new section around here!