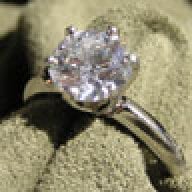 Joined

Sep 19, 2006
Messages

174
Hi everyone,

I wanted to post an official "introduction" to the board. I''ve posted a few times already, mostly in the WWT section.

I hope to post some pictures of my actual ring soon. A friend of mine has them on a disc which I don''t have yet. We had a very hard time getting some decent shots.

Anyway, I attempted to change my avatar to the image of the ring that I had originally showed my now husband when we decided to get engaged. This was a second marriage for both of us so I had much input on my ring. Basically, I wanted a round brilliant in a setting as close to the original Tiffany as we could find.

I''ve had my ring since May 2005 and we got married in June 2005 (ran away to Vegas!)

Anyway, I will have some pics to post soon! Once I have my pictures do I simply copy and paste into my message? I''m still new at this...