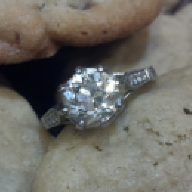 Joined

Sep 22, 2011
Messages

538
Hi Ladies!
I've been a long time lurker (checking RT, SMTB, Hangout and LIW at least once daily for 8-10 months) and finally decided to join today since I can't view the new Pre-Owned PS Jewels forum without a membership. I think I was putting it off because as soon as I joined and went on the list, that would make it all too real and now all of a sudden, Im a LIW... Oh no!
A little about myself. The SO and I are both law students with a pretty clear idea of where we're going in life. We've been together for a little over 2.5 years and I hope that we will be engaged before that number gets to 3...errr maybe 3.5. We're very comfortable with each other, love each other very much, and know that we want to get married as soon as we graduate. However, since we've been in school for so long, theres not a lot of spare cash lying around for a nice big sparkly for me.
I think before PS I would have been happy with something much less costly, but here I am - drooling over all these pricey objects so I think thats pushing the possible engagement back further than expected.
Not much else to say except I'm excited to have finally made the plunge!
-LJL