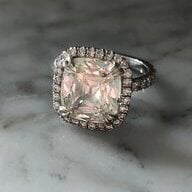 Joined

May 1, 2006
Messages

289
This project has been several months in the making, and I am so thrilled with the outcome! Believe it or not, this was actually my first completely custom commission, and Maytal was an absolute breeze to work with.
I sourced the stone from The Gem Collector on IG and that experience was great also. She has some amazing stones in her inventory, and was also super responsive and forthcoming with additional pics, videos, etc during the buying process. I knew I wanted a very specific color/size/Jedi spinel and she came through!
Here are the specs:
Center: 3.06 untreated Cushion neon Jedi spinel, 9.73 x 7.92 mm.
Sides: .75ctw Cadillac cut diamond sides, D-E color, VS+ clarity.
There's also some melee around the halo and sides, along with handmade rose gold filigree accents. Ring is platinum, finger size 6-1/2.
warning: PIC OVERLOAD COMING!
Here is the loose spinel - nice vibrant neon pink color with fluorescence. Some violet tones in certain lights, but also pulls a warmer pink in indoor lighting.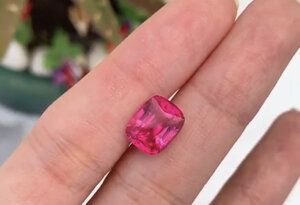 I had a general idea of the style of ring I was looking for, and based on what I had seen here on PS, I was confident Maytal could deliver. I emailed her and received a response almost right away! A little back and forth, and we came up with a design that would showcase the spinel but also stand out in its own right. I also love Cadillac-cuts so this was an added bonus!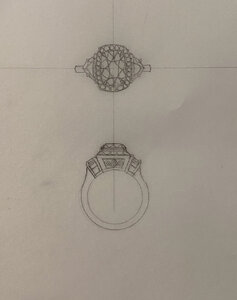 So without much further ado, here she is! IG teaser:
A gorgeous glamour shot from Maytal with a beautiful rose that matches the neon magenta color of the spinel: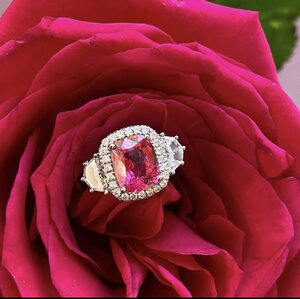 And a few more taken by yours truly, of course I had to get a fresh manicure to match!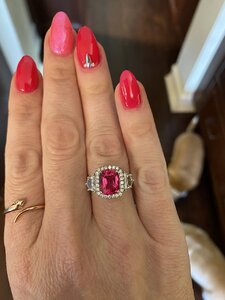 ,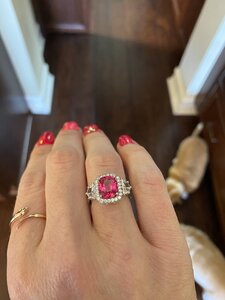 Outside at sunset - you can really see the neon-ness of the spinel (taken pre-mani lol):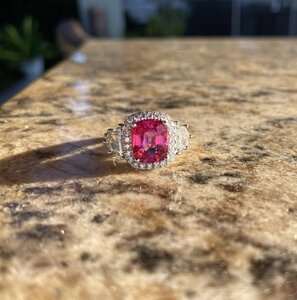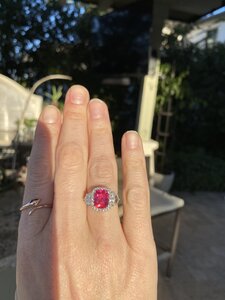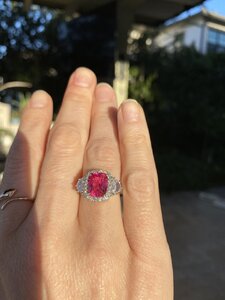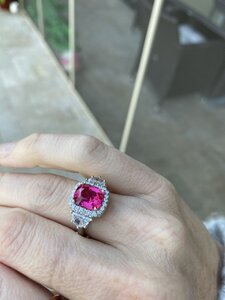 Indoors at night - the stone takes on a warmer and slightly more salmon/orange hue: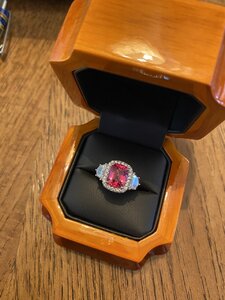 I am happy to post more pics or answer any questions! This was a fun experience and my first true custom commission, and I wouldn't hesitate to do it again.