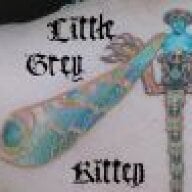 Joined

Nov 27, 2007
Messages

2,975
OK. So we had been planning to go on a little road trip this weekend. But, as I started thinking about it more, I realized our new kitten Bug was just too little to be left alone. He's about 2 1/2 months and eats only wet food, voraciously.
I didn't really think it was fair to ask a cat-sitter to come and feed him two or three times a day. So, we decided to pack him and take him with! He is very, very mellow. Very mellow. When he's not vibrating with energy and bouncing off the walls, of course.
So I popped him in a harness to see what happened. Well, pretty much nothing. Dex (whom I harnessed too, just for fun) rolled over, slunk sideways, and generally shot me woeful, tortured looks implying strongly that I'd broken him. Bug just carried on with the feisting, totally ignoring his harness. So that was a good sign I figured. Dex, in a fit of vengefulness, tried to eat his harness when I took it off him.
Anyway, we put a litter box on the back seat, and his (ohgodsopink) cat carrier on the other, harnessed the kitten, and loaded up. He spent about five minutes poking around, tried to climb on the driver-husband at least a couple times, and then alternated dozing in the footwell and conking out on my lap.
I decided he'd probably been cooped up long enough at about Yakima. We decided to try the cheaper places first, assuming that was the best bet for finding a kitten-friendly place. Luckily we found one on the first try- the Motel 6 was ok with pets.
Behold (below) the ugliest comforter in the entire universe, courtesy of said Motel 6- it almost fried my eyeballs out I must admit. The motel 6 was awesome- DH went to the vending machine at midnight and listened to a hooker and her customer negotiating with the front desk for a room by the hour. Classy! I should add that the aforementioned eyeball-bleeding comforter had the delightful texture of pure, water repellent polyester.
The next morning was the most, er, challenging bit. We headed out and Bug decided to pee promptly. Unfortunately, DH took a hard turn mid-pee, and Bug tipped over and went splat. So we pulled over quick and found Bug crouching miserably in his pee puddle in his litter box, looking like he'd been squashed. Poor Bug! I hauled him out, dried him off and wiped him down, picked all the damp littery bits from between his toes (mmmm) and let him cruise around in the 95 degree heat to dry off. He was fine with everything on the drive except passing cars, those scare him, so the busy parking lot was stressful, especially after I'd toe-washed him. So he wasn't too thrilled. Finally we declared his toes clean enough and took off again.
So, of course, that was a good time for Bug to take a big, squishy poop. DH grabbed him (somehow, while driving a stick) and kept him from landing in his poo, except for one unfortunate foot. So once again there was a mad scramble to pull over and keep the poo-foot from touching anything- which we managed *somehow*- it was quite the adventure juggling poopy kitten, poopy litterbox and traffic and car. And again, poor Bug had to have his little abused foot cleaned, yet again, in a too-busy parking lot. At the end of the fun-kitty-potty hour, Bug was crouched unhappily in my footwell, panting with stress.
We finally got going again and he recovered immediately, and perked up and dozed in my lap again, occasionally watching traffic upside down. (He apparently thinks that's the best vantage point for viewing *anything* out a window.)
We made it to our destination a few hours later. Guess what it was? Give up? ...My husband is weird. He had, very randomly, decided we *had* to go see this weird concrete replica of Stonehenge, in the middle of absolutely nowhere in Eastern WA. I unloaded Bug, who was happy again, and he took me for a long walk around the Stonehenge thingy. It was 100 degrees when we got there. Bug was totally enjoying himself, poking around, except for this persistent woman who kept videotaping him and wouldn't stop telling us about every single cat she'd ever owned. A cat on a leash, however, is great for avoiding people- Bug basically walked *me* so I was able to finally get away by saying "Whoops! Cat's taking me away, so sorry!"
Everyone was fascinated with kitten-on-a-leash, but luckily most people were polite and just marveled from a distance and left him mostly alone.
We loaded him back up and headed for Portland. He was all worn out after toddling around in the heat, and lap-dozed the rest of the drive.
So, I was kind of worried about finding a place for the night- though we could've driven home easily, worst case- so we took a random chance and pulled up to a nice hotel with valet. The valet said yes, they were pet friendly, no extra kitteh charges. So we got a killer 4-star hotel room for the night at a *great* rate, and Bug was like... oh so thrilled. He apparently has champagne taste- he thought the room was *amazing* and we'd gotten it just for him, and that suited him just fine. He had a couch to play on. Windows to look out of. A bed to bounce on. And best of all, a toilet to study intently. He loves flushing toilets.
After hours of car-dozing he was practically vibrating he was so pent up, and so he spent the whole night levitating, more or less. Mostly on the bed, while chasing toes under the covers. Next morning, it was about a five hour drive home. So we packed up the kitten etc., and headed out. I kept eyeballing Bug knowing he had yet to poop and had eaten his customary giant amount of cat food in the night, so he was fully loaded, shall we say. He, of course, was waiting for juuuuust the perfect moment to bomb his box. Which came on the freeway right after we'd opened some food of our own. We had to pull over on the freeway, but at least this time we didn't accidentally knock Bug into his poo, so that was good.
DH nearly ran us out of gas- he likes to do that, god knows why- but thank goodness he didn't and we made it home a bit ago with one well travelled porta-kitten. I was totally amazed at how portable he was, indeed. And how easy it was to find places to stay with him- apparently, either dive-y motels or super nice hotels are a good chance.
Currently Dex is telling us all about how evil we are for leaving him alone for three days. He's got a lot to say about it. And licking Bug, a lot.
Following, are a ginormous bunch of pictures.