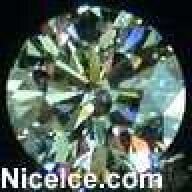 Joined

Jan 29, 2003
Messages

1,792
"It is unwise to pay too much, but it is worse to pay too little. When you pay too much, you lose a little money, that''s all... When you pay too little, sometimes you lose everything, because the thing you bought was incapable of doing the thing it was bought to do. The common law of business balance prohibits paying a little and getting a lot, it can''t be done. If you deal with the lowest bidder, it is well to add something for the risk you run, and if you do that, you will have enough to pay for something better."
-- John Ruskin (1819 - 1900)
Amen to Ruskin! A man that knew what was going on before we were even born...
Quite a few of the more prominent internet diamond companies have no physical presence, they are merely a paper mach
é
star twinkling at you from the depths of cyber space... These companies offer little more than a virtual list of diamonds which has been downloaded from the various multiple listing services reserved for the trade and republished at various profit margins... This is why you might see a diamond with the same weight, color, clarity and characteristics advertised by five or six different diamond web sites at different prices. Unfortunately most of these sites offer very little in terms of customer service, proper representation of the diamond''s characteristics and peace of mind for consumers because they never see the diamonds that they sell and there is no physical location to refer to if you experience a problem... The owner of the company may not even know that much about diamonds, they merely process the orders, collect the money and have the diamonds drop shipped to their customers from the suppliers... No muss! No fuss! No service! And no peace of mind for their customers... However internet-only diamond brokerages continue to thrive because they offer diamonds at prices significantly less expensive than most traditional jewelry stores.
Traditional Brick & Mortar (B&M) retail jewelers offer consumers face-to-face customer service and the advantage of being able to physically inspect and evaluate the diamonds being offered for sale, but usually at price points which are staggering and quite often prohibitive for the budget people have in mind. However, people are likely to pay more for a diamond that they can see as opposed to risk losing their hard earned money on a diamond that they can''t see... Or they might settle for a smaller or lesser quality diamond in exchange for the peace of mind offered by a jewelry store with a physical location... However it would be foolish to assume that the jewelry and diamonds offered for sale by traditional brick and mortar jewelry stores are of the same or better quality simply because it is being offered for sale in a traditional retail environment because the fact is that many retail jewelry stores make their money by selling sub-standard merchandise at very high prices... Furthermore, it would be foolish to assume that a jeweler is reputable and will stand behind their product simply because they have a physical location.
It is important to know the full details regarding the diamond or jewelry item that you are considering the purchase of regardless of whether you are buying it from an internet diamond dealer or a traditional brick and mortar jewelry store... You should obtain the following from either type of vendor before buying a diamond:



The original diamond grading report or a high quality scanned color copy of the original diamond grading report so that you will know the inclusion types and their location.




A detailed written description of the inclusion types and their location.




Clarity photographs of the primary grade maker inclusions.




Detailed proportions analysis in the form of a full page Sarin or OGI generated report.




A written guarantee with a reasonable inspection period with the option of returning the item for a full refund in the event that you decide to return the diamond for any reason other than damage.
You should also verify the good standing of the vendor within the community where they do business by contacting the Better Business Bureau for the region and within the trade by contacting the
Jeweler''s Vigilance Committee
in New York City by telephoning (212) 997-2002. A little time spent investigating the company you are considering buying a diamond from in advance of making the purchase is an excellent preventative step that can save you a lot of time, money and grief.
There are quite a few diamond vendors here on Price Scope who operate traditional brick and mortar locations and maintain a strong internet presence... These vendors offer clients the best of both worlds by providing the stability of a traditional retail environment combined with the lower price structure that can be maintained with the volume of an internet site. We are obviously one of these vendors, Jonathan at
Good Old Gold
is another...
WhiteFlash
and SuperbCert both maintain a physical inventory and while we''re unsure as to whether they are operating a traditional jewelry store or an office, they are both operating out of dedicated space which provide customers with a sense of stability and a physical location to visit... Other internet vendors who maintain a physical inventory and a store front should speak up on this thread so that diamond buyers can be aware of the options available to them... Let''s separate the Click & Mortars from the Virtual Lists right now for the benefit of the public

Leonid, for the sake of the diamond buyers here on Price Scope, we think that there should be a designation on the diamond listings advertised here on Price Scope which make it clear to consumers whether the vendor advertising the diamond has the diamond in their physical possession or is merely listing a diamond for sale that they have never seen... It seems to us that consumers have a right to know whether they are buying a diamond off of a list or from a vendor who has seen the diamond and who has therefore verified the characteristics as stated by the laboratory... Based on the comments we receive from customers regarding their confusion as to how "the same diamond can be offered by six different sites" it seems like a fair designation for Price Scope to make. Those people who are only interested in price are likely to continue to buy their diamond from the lowest bidder and those interested in quality, price and service are likely to continue to buy their diamond from ourselves,
GOG
,
WF
and SC but at least they will do so with a clear understanding of whether the vendor they are buying from has ever actually seen the diamond... This would further avoid confusion regarding diamonds advertised by vendors who maintain both a physical inventory AND advertise the diamonds off of the multiple listings reserved for the trade which are not in their physical possession and will be drop shipped to the buyer... We can see the value in this sort of designation both as a seller of diamonds and as a general consumer. Perhaps the designation could be made as a "status" column with a designation of "in-house" or "virtual".
We look forward to reading the comments and suggestions of the other dealers and consumers here on Price Scope.