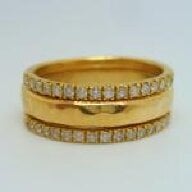 Joined

Jul 25, 2008
Messages

3,988
I confess a weakness for unusual stones with interesting effects. So, when I saw a very nice hackmanite with very pronounced colour change, I just had to get it.
Hackmanite is a tenebrescent stone, which can go from a darker shade to a pale one in the daylight (mined near Quebec) or the other direction, from pale to dark (Burma and Afghani stones). This kind of colour change is unusual as it is gradual (instead of instant as in an alex or CC garnet), almost as if the stone was a capacitator charging up. It also loses colour slowly, taking around a day or so in the dark to get back to pale and as long as 7 days to get the very palest tone.
This is a Burma hackmanite, which goes from a very pale pink to a dark purple. At first, I wasn''t getting the full spectrum, but then I remembered that my windows are UV blocking - not my brightest moment. It is supposed to fluoresce bright orange in LW UV, but I haven''t seen that yet as I don''t have a LW penlight. It is very small (0.3 cts and 5mm by 4mm) and sleepy, but carrying it around is a lot of fun, as I am sure PCers will understand!
It is rather soft (a 6), but I am planning to get it set in a nice protective setting. Any ideas?
This is the colour after around 2 minutes in an over cast day (I wasn''t fast enough to capture the paler shade). It usually stabelizes slightly darker than this indoors.