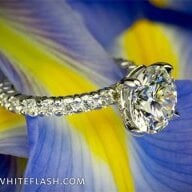 Joined

Jan 30, 2007
Messages

807
Hi
I could really use the help of all the experts and PS regulars with this question.
I am just about to receive my e-ring probably by this weekend (it is from
WF
).
I live in Canada and know nothing about a good, reputable, and reliable insurance company I can go to, to have the ring insured.
I live with my parents and will stay there until I marry as I go to school full-time so I could ask them about adding it on to our homeowners insuarance but I''m not sure who my dad has a policy with and if they have a good track record and have a good policy with regards to claims for rings etc.. (i.e. will they replace or repair if damaged, loss, theft, cracks in the stone etc...).
I would prefer to go with a really well known company with many years of experience in the area so I won''t have to worry once it is insured as I am already really nervous to wear it w/o an iron clad policy behind it.
Could you please help with any info on good companies in Canada specifically BC Vancouver
I really, really appreciate it!