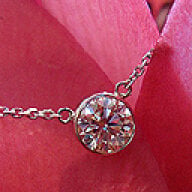 Joined

Oct 30, 2002
Messages

31,003
Hello--
If anyone has any information that can help, I would appreciate it. We recently found what appears to be a great deal on an engagement ring with an Old European Cut stone set within a modern replica of an antique setting. The stone is from around the 1930's.
There is no certificate with this ring from the GIA or IGL or anyone though I don't know why. The information I got from the jeweler, which is a very reputable jeweler who deals in Estate Jewelry is listed below. We are trying to determine if this is a good deal for this type and cut of stone..as there isn't alot of information out there on how to gauge quality of old stones. I know much of it has to do with whether or not you love the ring and the stone, as older diamonds are most likely hand cut as opposed to laser, and have alot more character. We really like the ring and think its a great deal, but wish we had more information on how to interpret the data we do have.
Here's the info:
1.31 carat old European cut diamond with I color and VS1 clarity is the center stone. It's set within a 4 prong platinum open engraved'basket' setting, allowing for movement of the light from the diamond. The shoulders of the ring are set with about .12 carats of baby channel set diamonds. The ring has narrow shoulders and band, between 1.7mm-2.1mm. The jeweler could not tell me polish or symmetry of the main stone, but did say that the table was 54% and that the depth was 4.2mm (they did not have a way to convert that to % I guess). Diameter is 6.8mmx7.1mm.
The price that was on the tag was $9k but they offered it to us for $7,500. They have had it for a few months, and at our last discussion--because she knows we are serious, she offered it to us for $7,200 (with 7.25% tax in our state). So it's a pretty decent discount off an already good $9k in our eyes..we love the stone, the size is great, and it is very sparkly. If you view the ring sideways or face up, it looks very clean and white.
Overall its a gorgeous ring and we love it. We just want to be sure we aren't getting taken for a ride with the pricing. From what I know about regular round brilliant, more modern diamonds, this is an outstanding price. I just don't know how to compare an old Euro cut to something that we see today. Also, from an experienced eye..is there really any difference between an H color and I? The I looked very white to us, even set in platinum, and I couldn't see alot of difference when I compared a D color ring to the I one.
In any case, any information or suggestions or comments are welcome. We are trying to make a decision in the next few days as we don't want to miss out on the deal or the ring as its one of a kind (because of the hand-cut stone). With my luck..we'll decide we want it then it will be gone! Also, if we do decide to get it, how do we have it appraised, or can we have it appraised before purchase? Does it need to a be an antique jeweler or ?? Is it a black mark that it does not have a certificate?
Thanks in advance!
Mara
[email protected]