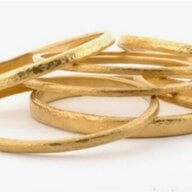 Joined

Jan 26, 2003
Messages

22,085
The shelf holding the computer monitor gave way and the monitor fell down and hit the glass of cranberry juice. The connections for the monitor and the computer came undone. My daughter, who had been at the computer, was distraught and demanded that I get dressed and drive to the library to finish an on-line transaction so that she could have the blue jeans she wanted. My father told me to lower my voice. When you have an emotionally distraught teenager the fact that you were crawling on a cranberry juice-soaked carpet in your pajamas and have wet, sticky knees is no excuse for yelling at
her
! She can't help being compulsive! The upside was that the library has some superb books on teenage depression. I have been reading them.
I finally got the computer connections together at 1:40 AM...but the components of the computer are in disarray and the repairman isn't due until Monday. If I disappear again, you will know why.
No one knows why the shelf gave way and fell.
AGBF