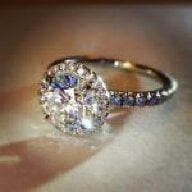 Joined

Sep 5, 2007
Messages

499
so.....i''m back to my Mexico story. here''s a little bit of history for those who haven''t been following my mexico story. so about 1.5 months ago, my bf and i were invited to a destination wedding in mexico taking place in november. my mother and i fought for nearly a month because she is steadfast in her belief that only married people are suppose to travel together and it would be unacceptable for me to go away with my boyfriend before we got married. i know this whole situation is totally unfathomable for many of you, but i came to terms with it. ok...moving on....
my boyfriend and i folded away the idea of going to mexico because getting married just to go to mexico is obsurd. we haven''t really thought about mexico at all in the last few weeks but we have been talking about our future a lot. he''s been talking to his parents a lot about us getting married and our engagement/marriage seems to have been moved up quite a bit. (fyi...we don''t plan to have a traditional wedding. we plan to have a small wedding with just family maybe a month after engagement.) even so, i never really thought that i''d be getting engaged by the end of th year, let alone get married. but yesterday, while at a friend''s wedding, he kept insisting that he''ll be able to "convince" my mom to allow us to go to mexico. my mother''s stubborn as a bull (lucky him...i inherited from her...
) and he knows this...but he kept insisting that we WILL go to mexico.
i know he''s gotten the engagement/marriage bug real bad lately...but it seems like his plans are hitting overdrive. i was totally expecting for us to get married some time early next year, but could it be...?! forget mexico!! will we really be married before november?! there''s really NO reason why he''s be so confident unless he plans for us to be married before we go!!
i might TOTALLY be blowing this out of proportion...and overanalyzing...as i tend to do...but!!! how can i NOT think too much into this?!!? i''m super excited!!!

do you guys think i''m looking too deep?! someone please pull me back down to earth cuz my head has been in the clouds since we had this conversation!