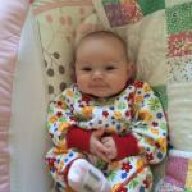 Joined

Jun 23, 2011
Messages

1,442
It's a week and a day overdue, but I've been putting off posting because I thought at some point I'd have more time to sit down and write a proper, well written announcement post. Since it looks like it's going to be a while until I have that luxury, I'll pop up a little teaser pic now and say the day was PERFECT!
I had a little wardrobe malfunction, but luckily it was just my veil!

It decided to fall out of my hair just as I started walking down the aisle! Luckily a fast thinking guest popped it back in for me and everything went fine from there.
This is the last picture of the night, just as the sun was setting. We don't have our pro pics yet but I'm sure I'll overload you all when I get them!