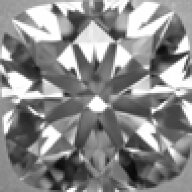 Joined

Jan 28, 2007
Messages

20
I'm looking forward to all you on Pricescope who are experts. I know that cut quality is the most important to me. I can also see color and it happens to bother the heck out of me (I can pick out tone differences from D to E). The problem I'm having is with the shape. I know that shape is based on preference, but my girl only wants "square," and there are a lot to choose from. I checked the FAQ and didn't see to much there to help me. I also tried to read "The Book" section, but I can't seem to find "The Book."
I prefer round, but she likes square, so square is what she's getting.
Q1: Which square shape is the most brilliant in terms of light return?
Q2: Which square is the best value?
Q3: Since AGS0 doesn't exist for some of these modified squares, how can I easily search and compare prices? A reputable shop only sells rounds & princess, so I can't compare easily.
Q4: Where can I go to have access to all these different shapes? Most shops only carry a small number and will ship what you want in advance.
Q5: Pricescope doesn't seem to have an easy way group cuts of these modified squares.
My stone budget is 8-$10k, 1.00-1.50 carats.
A little background since this is my first post:
My name is Mike and I have fallen in love in a woman that I intend to marry. I have to admit, I didn't care much for diamonds in the past (I enjoy investing), but I try to get the best for me and my girl, and she'll be the best investment of all...
With regard to diamonds, they all looked the same to me. In my late 20's, I've never been able to tell the difference between diamond and didn't see much point in spending too much for something that looks good under a scope. Now that I've researched this a bit, I couldn't even think about getting anything less than the best cut diamond that I can afford.
First time I looked, I went to Rogers & Hollands. Second time to Tiffany's (just for fun). Then I found
GOG
, Pricescope and proceeded to DimendScassi for some visuals (what a great guy Isaac is).