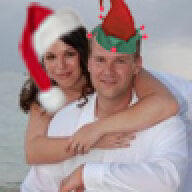 Joined

Jan 8, 2007
Messages

3,962
So, a while back......a long while back, I started a thread on trying to make the transition from meat-eater to vegetarian. Except, nothing ever came from it. I couldn't bring myself to give up my precious wings and chipolte burritos.
I wanted to become a vegetarian strictly for the animals, first and foremost, but was having a hard time getting over the hump of actually doing it.
Then I noticed that I gained a lot of weight in a short amount of time (the course of a year.....you may remember my panicked thread about not being able to fit in my wedding dress...

) and I kept telling myself that I wanted to eat better...but I never did. I have a habit of getting these great ideas and never following through with them.
This is where it might get a little TMI. Just warning you. If you want to read it, highlight the paragraph below between the *s
*
I have a cyst. In a weird place. Okay, it's on my butt, right where the crack starts, but still on the cheek (but, closer to the crack than the cheek) if that makes sense. I've actually had it for a LONG time...over the course of 5 years, but it didn't bother me. Then suddenly it got very painful, to the point where I couldn't even walk or sit or anything. I went to the doctor and he drained it (OUCH! btw). He said I was going to have to have surgery to remove the sack. I ignored him. That was in December. Well, a few days ago it flared up again and "released" on its own. Which was TERRIFYING. I thought I was going to poison myself with bacteria and so I went back to the hospital. Different doctor, same message: You will need surgery to remove the sack. Apparently cysts in this area are either regular old boils/abscesses, or they are caused by an ingrown hair that sort of nests itself under your skin as it grows----gross, I know. Luckily, the first doctor, who cut it open, said there was no hair in there. I think that if it was a true pilonidal (hair) cyst, surgery would be my only hope. But since I think it was just a boil, I began looking for other "cures" so I can make surgery a last resort. I don't have health insurance, I would have to be out of school/work for a month, and I am seriously SERIOUSLY afraid of general anesthesia. So those are my reasons.
*


So, that's when I started really considering going vegan. I have heard that these things thrive on animal protein and cutting it out of my diet alltogether may help my body get rid of it on its own. I have NOT talked a doctor about this. It's my own "hypothesis", I guess you could say. Going vegan would basically solve all of my dilemnas. I wouldn't be eating animals anymore, I would lose weight, and I won't have to have surgery. I have also been taking some cat's claw pills several times a day to try and help the aforementioned problem in the white paragraph.



I'm only on day 1, but I'm starting to realize that it is a lot harder and a lot EASIER than it looks. Easier in the sense that you can actually eat more things than you think, and harder in the sense that I don't cook--and that a lot of recipes on the net seem like things I wouldn't consider yummy. I also messed up already when making my wheat pasta with fresh veggies.......I thought it was a little bland so I sprinkled on some parmesan cheese.
DUH! Didn't realize till after the fact.
But I guess you could say that I am more committed to this than I was before, and I want to do all that I can to make it work. I'm still learning. If there are any people out there who know of any good vegan recipes that are easy to make (as in, require few ingredients), or that have any helpful tips (even on the "white" section...which would be even MORE appreciated), please share!