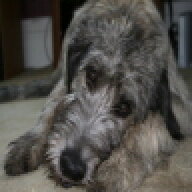 Joined

Aug 8, 2006
Messages

11
Now I don''t post much however, It FINALLY happened! Nothing fancy, just us at our house on the couch before leaving for my parents house! Very us. My family was very excited as were his. His mom and "little" (16 & 21) sisters may be more excited than I am! In my future mother-in-law''s words...."I FINALLY have a future daughter-in-law!"
I love my ring...0.81 I VS2. 18k white gold setting. Ring Size 7.5
My hands look horrible in the pictures and the pictures show little sparkle as it is a dreary day. Hopefully we''ll have some sun here in the next few days. I wished I would have had my camera at church yesterday....it sparkled like MAD!
Merry Christmas!