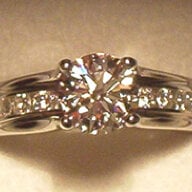 Joined

Dec 13, 2002
Messages

19
Sorry if this is off-topic, but many new people should find this interesting.
It wasn''t easy, but I''m very happy...as is my bride-to-be.
Summary
After perusing way too many websites, I finally purchased a beautiful diamond (1.12 carat, G color, VS2 clarity, Hearts and Arrows ideal cut and AGS certified SuperbCert diamond) from Barry at www.SuperbCert.com and a gorgeous Verragio (www.verragio.com) platinum setting (ENG-0069R) from Long's Jewelers (Boston area jeweler, www.longsjewelers.com).
The ring is truly exquisite. However, the diamond selection and purchasing process was unnerving. Key items that I learned:
• There are a lot of good, but not great, diamonds available
• Branded diamonds exist and are a good way to differentiate quality between Hearts and Arrows diamonds when buying online
• Cut is the most important aspect of the diamond purchase
• Doing your research and taking your time pay off
• The diamond picture on the left of a certification represents the top of the diamond and the right represents the bottom
• The more educated about diamonds you get, the better (and more expensive) diamond you want.
• Conversely, many people cannot differ a D to a G or H colored diamond
• IF-VS2 graded diamonds have, by definition, no discernable marks to the naked eye…so unless you're going to look at the diamond under a loupe all the time there is no reason to get a clarity above VS2.
• Most people, including those that have purchased or sold diamonds in the past, have no idea what they bought or what cut really means.
• Not many people have heard of Hearts and Arrows - but this term/cut is gaining in popularity
• You need another insurance policy to cover an engagement ring
• The most expensive things in life are the most complicated to understand (mortgages, cars, insurance, taxes)
For the long version, please read on.
Making a short story super long…
We were heading to the mall one day and across the street is a jewelry store. I asked her if she'd want to go in and look at rings and she was instantly excited! I'm not really sure why I decided to drive there that day, but it made me realize that I didn't have much of a clue about rings or diamonds, except for what carat meant. I knew nothing about settings, mountings, baguettes, or even jewelers. Looking back on it, the sales person was probably salivating at the possible purchase. (By the way, sales people will tell you many things to get to buy you a ring when your girlfriend is around. We were told that we would have beautiful kids and that our eyes matched nicely.) Luckily, I came out of the store (with all my money) knowing that she liked platinum rings and everything from princess to round cut stones, but more importantly I came out knowing that I had to make this an educated purchase.
Since she liked several different settings, I told her to email me any that she saw online that she liked. Of course this was exciting for her and also would help me narrow at least the setting down (I thought). I wasn't expecting to see different stones AND different settings, but at least I had choices. So, after a couple of weeks, we went back to a jewelry store and I found out she liked both Scott Kay (www.scottkay.com) and Verragio (www.verragio.com) rings. She gave me a couple of choices, but I could tell that the Verragio setting was one that made her eyes widen…so I decided that I was definitely getting this setting.
I then went to Verragio's site to get more information and also to find a local jeweler. After reviewing all the rings repeatedly, I found the one I was looking for - ENG-0069R. (Later I learned that the ring had two different versions – with the stones in the ring either being round. 69R or 69P)
Well, after moving to a new city and dating for a few more months I decided that I was ready to make the huge purchase. I always like to make an educated purchase; I'm the type of person who sees something that I like in one store and goes to all the other stores to see if I can find something better or at a better price. I looked at the sites from which she sent links (www.wherethediamondsare.com and www.
bluenile
.com). These sites brushed over the 4 Cs (carat, cut, clarity, and color). The first thing I decided was that I wanted to get at least a carat. Why? I'm not sure, I guess that's the "standard" or something I figured she would expect. Also, I didn't want her to wear a "champagne" (from "Beautiful Girls") colored ring or one that would clash with platinum. So, I had to find a stone that was clear and was at least a carat, but I wasn't sure about the other 2 Cs (cut and clarity). So, I started my search at Google for diamonds and found two sites, Pricescope.com and DiamondTalk.com. These sites were saviors, with so much information. I just starting reading message after message in the Customer Testimonials forums and they kept pointing to two or three highly reputable Internet diamond buying sources.
A few Internet sources stood out, one being www.
GoodOldGold
.com. The site was very basic, but it explained just about everything you would want to know about diamonds. Although some of the site wasn't the most professional looking, the information was great. After reading a few of the pages, I felt like the owner, Jonathan, was a friend telling me insider information. Other sites may touch on the items he does, but he always goes one or two steps further. His pictures were nice and he spared no details; he critiques the diamonds himself and will actually write that a diamond he is selling has some slight problems. This was impressive. I liked the fact that he posted the certificates, the MegaScope results, Hearts and Arrows viewer images, and BrillianceScope results (http://www.gemex.com). All of these things I learned about after reading the site.
So, I started to peruse the diamonds he had listed on the site. I learned fast that not all VS2 or SI1 rocks are the same. An inclusion in the diamond may be on the top or bottom, can be a feather, crystal or cloud, or have graining. This made it absolutely necessary to view the certifications of any diamond I was going to purchase. Two things stood out about Jonathan's site. One was that I really enjoyed the BrillianceScope readings. This tells you how much light the diamond will refract, how much fire and scintillation it will have. This was very important to me because I think what makes a diamond remarkable is the sparkle you see when it's on someone's finger. I was not going to spend money on a diamond that was dull. Not many other sites use the BrillianceScope because they say the results can vary or can be manipulated. Even if the results could vary, I still liked that the information was listed. The other thing I noticed on the site was there were a few diamonds that had a brand laser inscribed on the diamond. The brand was SuperbCert, another recommended site. I figured that if this guy only gets the best diamonds, then SuperbCert brand diamonds must be one of the best. So, off to the SuperbCert site…
The site explained that a branded diamond adheres to specific cutting dimensions. In this case, SuperbCert only makes super ideal cut diamonds and are cut to maximize the Hearts and Arrows pattern. I looked through their diamonds and bookmarked a few of the stones along with the ones I bookmarked from
GoodOldGold
. So at this point I knew the setting I was getting and bookmarked a few diamonds, but they sure seemed to be pretty expensive. So, I went to Pricescope.com to look at other diamond brokers/vendors.
Other online vendors were recommended, so I figured that I would check them out and some sell other branded H&A diamonds. All the vendors offered the certifications, some would list the dimensions, etc., but no vendors offered as much information as the two I looked at previously (especially the BrillianceScope that I liked). One vendor quite often referred to diamonds as 'puppies', I knew I couldn't trust this guy. I did find some better prices on these sites, but I felt like I they weren't that dependable, the diamonds weren't comparable to the branded diamonds, or they didn't offer enough information (again, this is what I FELT). I contacted some of the owners and all of them were really nice and would respond to my emails quickly. The problem that I had was that they would only send me a certification of the diamond, its dimensions (1.03, G, etc.), and a personal approval of the stone ("this one is great" or "remarkable stone"). I just couldn't buy the gem on their recommendation. I decided if I was going to buy a diamond online then I was going to buy from
GoodOldGold
or SuperbCert, they offered more information than any other site.
I thought to myself that I should go look at diamonds in the diamond district in town and/or I should go to the mall and look at the diamonds they have. After reading several posts on the Internet though, I realized that these jewelry stores either a.) Won't give me the patience and time b.) Aren't that knowledgeable c.) Don't have the equipment other than a loupe or d.) Are just as expensive or more than expensive as the online vendors. I was even going to drive from Boston to Long Island where Jonathan's store is located. Using the Internet just let me go at the pace I wanted and I didn't have to go to multiple jewelers (also I didn't have to pay taxes if I bought online). Maybe I'm a little crazy, but I just decided to keep my search online for diamonds.
I looked at as many vendors and postings on Pricescope that I could and tried to find my perfect diamond. At this point I had established a price range and knew what 4 Cs I wanted. I had about 15 different diamonds bookmarked at this point (By now you can tell that I was meticulous with this purchase), ranging from E-G colors and 1.00-1.12 carats. All of these stones were in my price range. The stones with the higher BrillianceScope ratings always caught my attention. I eventually narrowed my search to two stones, one from SuperbCert and one from
GoodOldGold
. They were 1.12 G VS2 and a 1.03 G VVS2, respectively. The heavier carat stone was slightly less expensive, so I decided to go with it.
I was very excited, but a little worried. I thought, "Hmm, I'm going to send a lot of money to someone I never met for a product that I've never seen before." The one thing that assured me was that I had 10 days (SuperbCert's policy) to return the stone. Also, I knew that the stone was laser inscribed so that it couldn't be switched on me. The other great thing about them is that they send you a diamond kit which includes a 10X loupe, a Hearts and Arrows Viewer, Tweezers, and a polishing cloth. So, once I got my diamond I could immediately open the package (with all the documentation) and view my stone and it's H&A pattern.
At this point I called Barry, the owner of SuperbCert. He stepped me through the credit card purchase. This can be a little lengthy, you have to scan your credit card(s), have papers notarized, and fax them the documents (bank routing purchases are quicker). Although, one drive to Mail Boxes, Etc and it was taken care of. After the documents were sent, Barry called me back to give me my FedEx routing number and told me that my diamond would be delivered to my work address.
The diamond was ordered and on its way. I still had to ask my girlfriend's parents for their blessing. We were able to see her parents over the weekend and I was nervous all day. I managed to ask her father and later talk to her mother; they were both happy and delighted to hear the news.
FedEx delivered the package right on time. All the documentation (certification, MegaScope reading, BrillianceScope results, and GemEx picture) arrived along with the diamond tool kit. This whole process went so quickly and Barry was both professional and helpful over the phone.
The diamond was absolutely beautiful. Perfect. I couldn't believe how big it looked and how much it sparkled! I went into an empty office at work to look at it and I couldn't wait to take it home to take pictures of it. I took out the digital camera and shot like 50 pictures, some using the H&A viewer, but most of them didn't turn out right (Taking pictures of diamonds is hard to do). I now had to go to the jewelers to get the Verragio ring (keep in mind I had to do all this and not lead my girlfriend onto what I was doing). A couple of days passed and I went to Long's for the ring. They were able to set it in under an hour. I was also able to use their more powerful loupe to make sure the laser inscription was correct and that the diamond was exactly what I bought.
So now I had the complete ring and I was ready to propose. I mulled over different ways of proposing, but most of them took place in the outdoors and it was February. One thing that people say is that the proposal should be personal to the couple. My girlfriend and I enjoy drinking wine and going to wineries, so I decided I was going to make my own wine label and tell her that I bought a special bottle. I then booked a brunch with a local winery (restaurant on location) that included a cooking demonstration with the chef, a wine tour and tasting.
For Valentine's Day, my girlfriend cooked an excellent meal and we stayed in to enjoy it. I told her that I had the rest of the weekend planned. The next day we woke up and took the T (train) into town and walked though Boston Commons. I told her that I had her Valentine's gift and handed her an envelope. Inside was a gift certificate for a manicure at a salon nearby (I looked up Boston magazine's Best Manicure, otherwise I would have no clue where to go). Trying not to give her clues, I explained that she's been saying lately that she needed a manicure. After the manicure, we went to a nice lunch and did some shopping (on Newbury St) and then came back home. We had a great day and spent the rest of the evening watching a movie.
We woke up early on Sunday and I drove to the winery. She still had no clue where we were going, but when we arrived she was very excited. The head chef cooked one of the dinners for a small group and explained some cooking tips, etc. It was fun, fairly educational, and she really enjoyed it. After the demonstration we had an awesome brunch (everything from French toast to grits to duck to blue fish), and we talked about the great weekend we were having. We then went to the winery for the tour and that was followed by a tasting.
The whole day I was carrying a duffel bag with me and she kept asking me what was in it. I would just say, "Nothing", and change the subject (the hints were all there, but I'm glad she was surprised). So, after the tasting I asked if she wanted to walk out to the gazebo. She was a little puzzled by this because there was a foot of snow on the ground, but went along with it figuring I was being romantic. We trudged out there and hugged, I told her how great the weekend was and how happy I am being with her. I then opened the duffel bag and pulled out a wine bottle still in the bag. I told her to turn around and open this gift. While she took the bottle out of the bag, I took a pillow out of the duffel bag and placed it on the ground. She looked at the wine label that I made which said, 'Will You Marry Me?' and she turned around to see me knelt down on one knee with the ring. I think she said yes before I could even say anything and she couldn't believe it was happening. So, I put the ring on her finger and we were ecstatic. She didn't know whether to laugh, cry, or jump up and down. I've never seen her so happy.
Bottom Line...
Maybe ignorance is bliss; I could've just walked into a jewelry store and bought a diamond and a ring and been happy. I probably could've given her a plastic ring and we would've been happy. But, I wanted something special, something I've worked for, something that makes both her and me ecstatic, and looks beautiful. It was a long process and I was pretty meticulous about the whole thing, but I think I had to be for such an important purchase. The end result is our happiness with the diamond and the ring I bought, oh yeah, and the fact that we're engaged! I couldn't have done it and been so informed without the Internet and numerous diamond sites.
I'd like to thank Barry for his great service with the awesome diamond (check out his site), but also like to thank Jonathan. Jonathan educated me and provided valuable information. I was close to buying a diamond from him, but found a better one somewhere else. Although I didn't ultimately buy my diamond from him I would think my recommendation would mean something.
By the way, we''ve received dozens of compliments - this ring is stunning indoors and blinding in sunlight; absolutely beautiful. From my experience, the scintillation and fire of the ring is proportionate to the BrillianceScope measurements. My bride-to-be cannot stop staring at the ring.
The Measurements
Ring: Verragio ENG-0069R
Carats: .43
Brand: Superbcert
Cut: Super-ideal
Carat: 1.12
Color: G
Clarity: VS2
Polish: Excellent
Symmetry: Excellent
Diameter: 6.74
Depth: 60.9%
Table: 55%
Girdle: Thin to Med Culet: None (0.6)
Websites
www.superbcert.com
www.goodoldgold.com
www.gemex.com
www.pricescope.com
www.diamondtalk.com
http://www.virtualcampus.gia.edu/GIAVC/insur.cfm
https://www.chubb.com/personal/engagement_ring_pgm.jsp
www.whiteflash.com
http://www.diamondbrokersoffl.com/
http://www.verragio.com/
http://www.dirtcheapdiamonds.com/
http://www.eightstar.com/